My birthday is on the 30th of October. And my husband is the best at planning surprises. This year he told me to pack a bag for one night and we got in the car. He drove in the direction of Munich, which confused me a little bit. I had three guesses for where this trip would be. Obviously it had to be within about three hours to be driveable for only one night. So my guesses were Baden-Baden for a spa, Versailles so I could finally see Marie Antoinette's Hamlet (which for some reason I've missed each time we've gone there. I've also not been to the top of the Eiffel tower, and I've been to Paris like five times now…), or Koenigsee to go hiking.
Then he had me even more confused as he took the autobahn south. So I asked if we were going to my favorite castle, Linderhof. He just smiled. Then I had it. Zugspitze! But he wouldn't give in. I would have to wait until we got there to find out. So I hunkered down in my seat and waited, knowing that I was right.
And I was.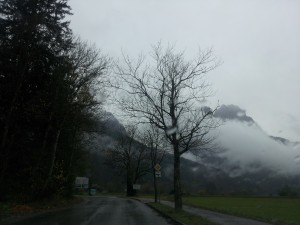 We rode a gondola to the top of the next hill over from the highest mountain in Germany. We couldn't see it. On either day. It was too cloudy. But honestly that's what I will remember most. The fact that the alps didn't magically get sunny for us. They were their usually sullen, foggy selves. I loved it.
The surprise wasn't over however. We had some spaetzle on top of the mountain and then drove to another unknown destination. This place.
Yep.
A spa in a castle. With this room.

And this view.
Das Kranzbach. I highly recommend it. Like really, go there. It was amazing. He told them it was my birthday so I got a special cake and candle after our four course dinner. They gave me homemade raspberry jam. The spa was pretty incredible and without clouds would have awesome views of the alps and Zugspitze. I really didn't want to leave.