Jessica Bell has created a true work of art with her new short story in verse, SHE. It gives us a glimpse into the mind, into a traumatic moment. I had to read it twice, and I think I might pick it up again one more time.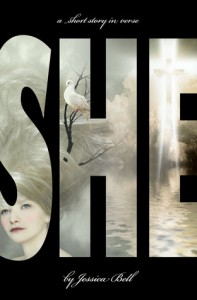 I loved how if I read the stanzas in succession they had one meaning, and if I read each line separately there was another. Such depth and feeling involved in such a tense subject, but Jessica never gave her opinion she simply showed a moment in time.
Some of the concepts are so contradictory. It really made me think. "Stigmata and release"; "Father John's labyrinths";  "in a slither of sun in the snow." I had to focus and at the same time let the words wash over me. That is exactly why I liked it, because it wasn't easy.
Did you know that in the U.S., 16,787 people have said that they were abused as children by priests between 1950 and 2012? (Read more about this here.) That's a shocking statistic.
In light of this, author and poet, Jessica Bell, has written and published SHE (a short story in verse), and has decided to donate 100% of the profits made on SHE, until the end of 2014, to ISPCAN.org. SHE is only $0.99 cents on Kindle. The cost of a few sips of coffee.
*Disclaimer: This story is not in any way a direct criticism of religion, or a representation of the author's beliefs, but simply a creative exploration of the concept.
Connect with Jessica online:
Website | Retreat & workshop | Blog | Vine Leaves Literary Journal | Facebook | Twitter